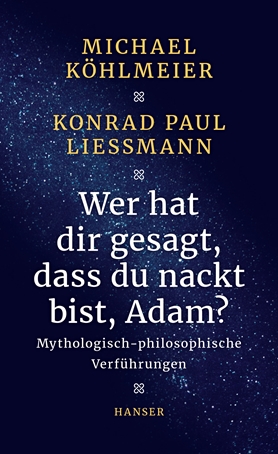 Adam, Who Told You That You`re Naked?
Who am I? What does freedom mean? These are major questions that myths and philosophy have attempted to answer.

Michael Köhlmeier is a great storyteller and Paul Liessmann is a brilliant philosopher, who is also capable of explaining complex models of thought. Together they have perfected the art of eliciting philosophical truths from myths. Michael Köhlmeier tells a story based on 12 key life terms, inspired by ancient sagas or folk tales. And to follow, Konrad Paul Liessmann reveals his interpretation of what he reads into these stories about the rules of the game and the possibilities of our world: responses to highly fundamental life questions. A marvellous literary-philosophical dialogue and a wonderfully pleasurable and intellectual read.
---
Foreign Sales
Arabic (Dar Ninawa), France (Actes Sud), Korea (Jae Seung Book Gold), Serbia (Laguna), Slovenia (Modrijan)